A great career opportunity for some; a daunting prospect for others – taking the reins at a sole-charge practice for the first time is not without its challenges. But what really are the differences in the responsibilities of being a sole-charge vet? Is the move to juggling clinical responsibility, overseeing teams' performance and running an efficient practice really such a big jump? Or, are worries about being drawn away from patients and unease about being left out on a limb valid concerns? And what are the rewards?
We speak to two of our sole-charge vets find out.
Angel Martin Fernandez
In the midst of Hackney's beautiful Victoria Park in east London, we meet Angel Martin Fernandez, vet at Goddard Plaistow practice, who manages a team of five and a considerable client base. Unusually, we didn't pick the park for an early morning spring walk, but because this is where Angel practises his rather unconventional hobby of slacklining – his young son Lucas often watching on.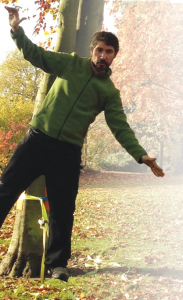 "It's all about balance and concentration," he laughs. "I'm talking about slacklining, but maybe you should use that in your article about managing a practice, too!"
Angel tells us that while similarities to tightrope walking exist, in slacklining some bounce and flex in the line is meant to be present (apparently the world's highest recorded slackline walk was 1,000 metres up across a gorge, but fortunately, here, he is a much more palatable 60cm off the ground).
"My wife actually makes me bring two slacklines now because I always have the local kids come up to me desperate to have a go. I end up letting them all have turns and getting no practice myself otherwise," he grins.
After slowly edging down the 10 metre-long rope, which is tied around tree trunks at each end – impressively maintaining his balance throughout – Angel steps off and we talk about the challenges of being in sole-charge.
"I love the independence it brings" he says, "and I would never go back, though it was quite hard in the very beginning. Once you've had time to settle in and get to know the clients and the team, it is a really good experience. If you are organised and want more control, you'll be sure to thrive."
So, how about running the practice itself? "Some days can certainly be busy and I have quite a large practice to look after, but once you work out your own work rhythm and build up your practice team, that's when things start to balance out," he said. 
"I've a young baby now, so it is even more important now to ensure I have plenty of family time, too.' "After six years, this is the longest I've been anywhere, including in Spain where I was born and trained. The good thing is that there is a network of support for all vets at the Goddard Group – whether that be clinical mentorship, staff training, IT and that sort of thing, which takes away a lot of the administrative burden."
And what of help on hand if needed? He nods and says: "I can always just pick up the phone at any time of day and get it, whether it be from practice or hospital colleagues or one of the regional support team. We are also allocated a sister practice to bounce ideas off or get another opinion, which is always reassuring."
As Angel unties and packs away his line, we ask what his plans are for the future. "Who knows" he says, "I'm just enjoying family life at the moment. I like how things are run here and many things are done the way I would do them, and there is plenty of clinical freedom, so I'll probably be here for some while yet".
More immediately though, it's time for him to get Lucas home and head off to begin the morning consults, and we bid him farewell.
Gordon Graham
A few miles down the road in east London's suburbia, Gordon Graham is 17 years into his sole-charge vet role at the Collier Row practice, a short walk from Hainault Forest Country Park, and he echoes many of Angel's sentiments.
"I can get on and be the clinical vet I want to be without having to worry about accounting and IT, and that sort of thing, yet still feel like I am in charge of the daily running of the branch. It's extremely rewarding," he says.
"I have the most awesome nursing team as well, who are not just my staff, but also good friends. We're all on the same team and not tiered and that's really important.
"Would I recommend it? Undoubtedly yes. I much prefer being a sole-charge vet as we all have our individual approaches to cases and a consistent approach in the practice is respected by clients. Admittedly, with a full appointment list it can be challenging to see clients promptly and time management may be difficult at first, but it is a skill that can be learned," he adds.
"In the early days, I recall finding it most difficult dealing with complaints and not taking them personally, but again there is loads of central support for dealing with these in the best way."
Philippa Davis
Philippa Davis, a long-standing regional manager, supported both Angel and Gordon's comments, and as a Certificate in Veterinary Practice Management holder (and creative mind behind Goddard Veterinary Group's award-winning London Vet Show exhibition stand last year), knows applicants' common concerns, having filled dozens of sole-charge vacancies over the years:
"Taking sole-charge is a step up, but well within reach of vets who want a change or more control, or who are simply looking for something new," she says. "Initial concerns I hear about are usually around how to improve performance, managing staff and the handling of difficult clients.
"Actually, once the first scary few weeks are out of the way and vets settle into really good diary management, and get the support they need, the expectation is for all our team members to always start and finish work on time. A fifth of our staff have been with us over 10 years, so once that work-life rhythm has been found, I guess it's difficult to leave behind.
"I always make a point of making lots of visits to a new sole-charge vet to ensure they are making full use of our support teams. Though, frankly, I wouldn't be seen anywhere near a slackline in my free time or any other time!"
Sole-charge vets at Goddard Veterinary Group
Founded in 1952 by veterinary surgeon Arthur Goddard, the group boasts 3 hospitals, 440 employees, 44 branches and its own dedicated vet nurse training college, and employs more than 100 vets and 116 RVNs. Sole-charge vets are supported by regional and central teams in IT, recruitment, HR, training, maintenance, locum coordinators and marketing, and all are allocated sister practices for mentorship and advice. Central clinical teams and hospital vets are always available for referral and clinical support.
Accommodation assistance is available for vets wishing to relocate.
For an informal chat about all opportunities across London contact us at vacancies@goddardvetgroup.co.uk and one of our team will be in touch.