Trust and loyalty are both values that embody any close family, and those same values have been central to the ethos of London's Goddard Veterinary Group (GVG) for the past 70 years.
We wanted to find out more about the people behind the scenes here and now at GVG, and what the future holds for nurse training. What encourages 20 percent of its team members to stay with the company for more than 10 years? Who makes the grade and, in a broader industry that needs many new nurses and who helps cultivate the next successful generation of RVNs?
Let's meet those who make nurse training tick – Emma Eve-Raw and Claire Digby Maloney.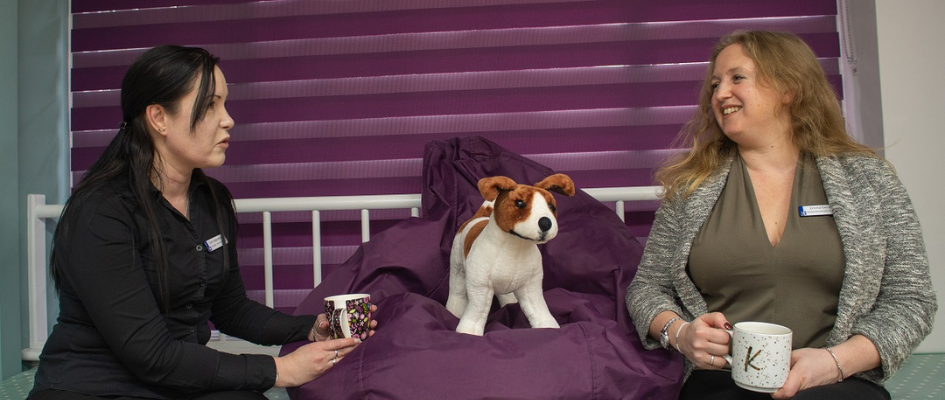 We first bump into Emma – who is the Group's training manager and Head of Centre for Goddard Veterinary Nursing College – outside Wanstead Veterinary Hospital in north-east London early on a chilly January morning.
Describing herself as "friendly, fun, dedicated and busy" (she certainly is – Emma coaches platform diving and cricket in her spare time, and chairs the parents' committee at her children's school), it quickly becomes clear that Emma's passion really is enthusing and nurturing the next generation of veterinary nurses.
"It's not enough any longer to offer only rigid classroom days to support student learning – we are bringing in blended learning and virtual teaching to complement our face-to-face sessions," explains Emma, who has been an RVN for 25 years, a trainer for 18 years and is a qualified teacher to University level.
"Having also been a practice manager myself, I know students need the variety and flexibility to learn and be fully supported in their journey in a way that suits both them and the demands of their role in practice. Flexible learning is what is key to bringing out the best in students so they can add real value to a practice by delivering gold-standard patient care."
Ask Emma about the current industry-wide shortage of RVNs and the challenges faced by practice managers and she is unequivocal in her thoughts.
"There is no doubt encouraging nurses to develop their skills and to remain engaged in their role is a is key to ensuring they stay in the profession." she says. "Nurturing well-rounded nurses with a breadth of experience really is investing in our future stars of tomorrow.
"What is really important is that the practice teams and practice managers are actively involved in that process – it's essential to keep them appraised of the programme we are running and allowing them access to the materials. A team effort is absolutely integral to any Nursing student's success."
Goddard Veterinary Nursing College is on the site of the Group's flagship Wanstead Veterinary Hospital and boasts a large teaching area, library and kitchen with comfortable breakout and lounge areas. Being so close to a busy working hospital that has CT, digital radiography and ultrasound, as well as more than 4,500 patients coming through its doors each year, means plenty of exposure to interesting and complex cases exists.
For the first time, the college is now open to applicants from outside GVG – something that Emma is clearly delighted about.
"We've got a track record of helping some excellent nurses reach their full potential, who have really added value to the practice teams they returned to or moved on to, whether that be Goddard's or elsewhere. That's part of the reason why we're extending our intake this year and inviting external applicants. I guess we want to show off as to how effective we are!"
A self-confessed tea addict and sushi lover, Emma's colourful and engaging personality is clearly one of the college's strengths.
"Always stay positive and look after the people around you..",
she laughs when asked if she has any words of wisdom for her students, "…and remember there is no point worrying about things you cannot change or that haven't happened yet."
As we are joined by Claire Digby Maloney, the team's training coordinator, Emma fondly reminisced on her times as an RVN and recounted one of her most memorable cases: "Having to multitask three emergencies all requiring critical care management and CPR. That's when you cannot panic – you must read the room and organise the troops".
Training coordinator Claire, whose role includes that of student support, added her thoughts on what makes a great student nurse: "Obviously commitment and a desire to learn, but as important is our ability to draw out what is already there.
"One of the most rewarding things about this job is helping build confidence in our students. Chances are they are already amazing – we just help them blossom and build their confidence and skills so they can reach their full potential."
"We also try to always lead by example, as many of us in the department also still conduct clinical nursing of patients as often as we can. We're one big community here and even the directors come in regularly to assist vets in clinic or do consults."
So, have you any advice for fellow trainers? "Be a mentor, a friend, a guide, as well as a clinical tutor, and recognise a student's every achievement, whether big or small", says Claire.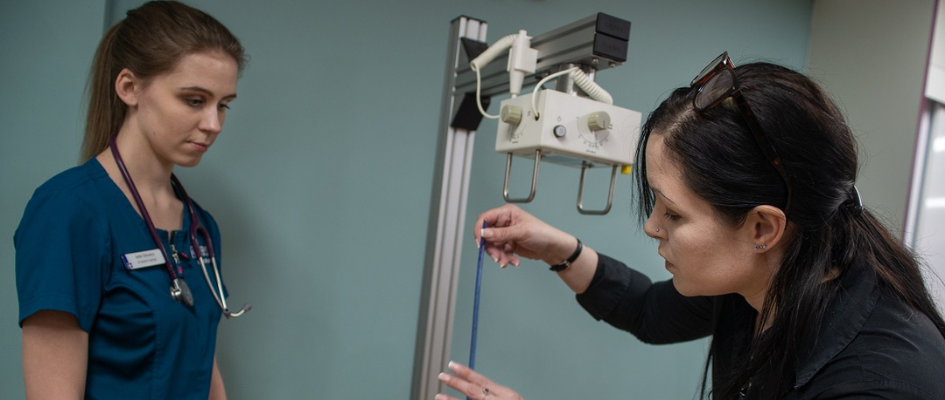 In person (Emma)
Q Spain or a camper van holiday in Scotland? Well, if that includes plenty of Spanish food and trips to the mountains then Spain it is.
Q Favourite meal out – sushi or kebab? Sushi. Absolutely. No doubt whatsoever.
Q R&B or jazz? It depends on the time and place – if I'm chilling at home then it's definitely R&B and of course a little Britpop, though I love spending time sitting in a piano bar with a drink listening to jazz.
In person (Claire)
Q What's next on your social to-do list? Celebrating our 10th wedding anniversary and hoping to attend the concert of one of my favourite bands, which has had to be cancelled twice due to the pandemic.
Q What three phrases do you think others would use to describe you? Organised, cat crazy (although this could be said about all animals) and unique.
Q Any interests outside of work? I enjoy travelling (and look forward to being able to do this again soon), reading, learning languages, studying history, music, going to concerts, events and sports.
Fact box
Founded in 1952 by veterinary surgeon Arthur Goddard, the London-based group boasts three RCVS Tier 3 hospitals, 44 branches, and its own veterinary nurse training college and employs more than 100 vets and 116 RVNs.
College entry requirements:
For the Veterinary Nurse Diploma, 5 GCSEs (A to C) including Maths, English and Science are required.
DipVN is achievable in 30 months.
For the VNA Diploma there are no entry requirements. Functional skills for Maths and English are supported.
The VNA Diploma course may be completed in 12 months.
Blended learning means some of the courses' content can be taken from home or home practice.
20 student places are available from April 2022.
Funding may be available as part of the apprenticeship scheme.
To book a student place or for any further information, visit our Nursing College page!