We're delighted to welcome you and your puppy for their first vaccination appointment and health check. We thought it would be useful to give you an idea as to what to expect at your appointment so you can prepare any questions you would like to raise with your vet in advance. If you have any questions before then though, you are welcome to either phone us in practice or drop our central clinical team a line on 020 8506 9944 who will be delighted to help.
---
Bringing your puppy to your appointment
Until puppies are fully protected by vaccination, it is important to keep them as safe as possible and to reduce their risk of exposure to some unpleasant viruses. Please carry your puppy to the practice and keep them either on your lap or in a carrier with some comforting bedding. To keep all other pets in the practice safe, please always use a short lead and harness or collar.
---
What will happen at the appointment?
1. Full health assessment
After welcoming you both, your vet will first ask you some questions and make full clinical examination of your puppy. They will ask you details about your puppy's eating and toilet habits as well as how active they are, in order to better understand how your puppy is developing and to help identify any areas of concern.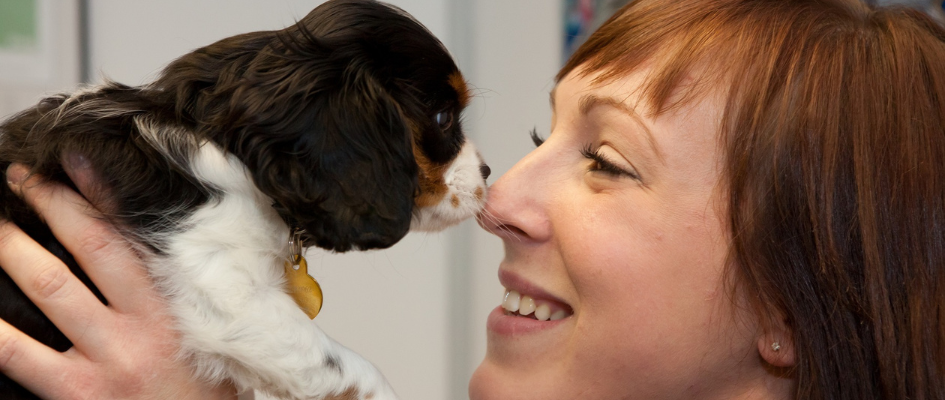 2. Vaccinating your puppy
If your puppy has not yet had its first vaccine…
Your vet will then administer your puppy's first vaccination. This will protect against four important diseases: Canine Distemper Virus, Canine Parvovirus, Canine Infectious Hepatitis and Leptospirosis.).
Your puppy will be given two, sometimes three vaccine doses, the second of which will be two to four weeks after the first. Puppies will need to be at least 10 weeks old at the time of the second vaccine. Please ensure you book a date for this second dose before you leave the practice.
After the second vaccination at, or after 10 weeks of age, your puppy will need to wait another week before going for walks outside of your house and garden. If your vet advises the need for a third vaccination (which is sometime needed to complete the course of protection against Leptospirosis, you should not allow your puppy near waterways, muddy areas or areas where rodents may be for a further two weeks.
If your puppy has already had its first vaccine elsewhere…
We use Nobivac® vaccinations. Please let us know before your appointment, by emailing us a copy of the vaccination certificate if your puppy has had its first vaccination elsewhere. The brand of vaccination and the timing of that vaccination will influence when we need to see you, and what vaccinations your puppy will need.
---
Other vaccines and boosters
Your vet may also recommend an additional parvovirus vaccination at 16 weeks of age to boost immunity if we have concerns about increased risks to your puppy. There will be an additional charge for this vaccination.
Additionally, we recommend vaccination against Kennel Cough, especially if your puppy will be either mixing with other dogs, going to day care, or boarding kennels. Your vet will advise you at what age we recommend kennel cough vaccination for your puppy.
---
Yearly boosters
A yearly booster jab will be needed to ensure protection against disease is maintained. We'll remind you via email or text when your puppy's annual booster jab and annual health check is due.
---
Will it hurt?
In the majority of cases puppies will not even notice the injection. Sometimes it may cause a sting or discomfort at the time of injection that will make your puppy wriggle or cry out. You may notice a small swelling at the site of injection and this can occasionally be hard or painful to touch for 3 days.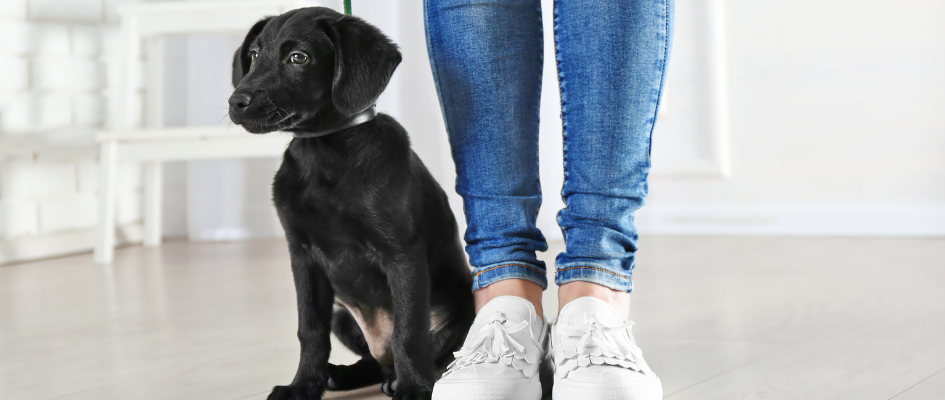 3. Healthcare Advice
At your appointment your vet or nurse will talk with you about a number of common healthcare- related considerations to help you make the best choices for your puppy. These will include:
---
Parasite Control
If your puppy has already had flea or worming treatment given by the breeder or yourself, please bring details of what product was used and when it was given, to your appointment.
Puppies are very susceptible to the effects of worm and flea infections and adult dogs also require regular worm and flea control to prevent serious illness, poor health and to keep your family safe.
At the appointment your vet will assess your puppy's health, weight and lifestyle and will recommend a regular program of both treatment and prevention.
The most effective parasite treatments are often only available by veterinary prescription. We don't recommend over-the-counter products or online products bought without a veterinary assessment and weight check.
There is a particular problem with lungworm in Greater London and this can only be prevented by regular treatments prescribed by a veterinary surgeon.
---
Neutering
We advise neutering of most puppies from 5 – 6 months of age. For larger breed dogs we may advise delaying neutering until 12 – 24 months of age depending on the breed. Your vet will discuss this in more detail with you.
Neutering your female dog (spaying): Spaying a bitch is a surgical procedure performed under general anaesthetic where the ovaries (and, usually, the uterus or womb) are surgically removed. It's a fairly big operation though young dogs tend to recover remarkably quickly from the procedure.
Neutering your male dog (castration): Castrating a dog is a very simple surgery because his reproductive organs are conveniently located outside his body. In the procedure, his testicles are removed (so it is not the same as a vasectomy, where the testicles remain in situ but the tubes carrying sperm from them are cut) preventing him from making either sperm or testosterone.
---
Microchipping
It is a legal requirement for all puppies over 8 weeks old to be microchipped. This can be done at your vaccination appointment but may have already been done if you've bought your puppy from a breeder. If so, please make sure you contact the microchip company to change the registered contact details to your own.
---
ProActive Pets
Goddard Vet Group offers its own preventative healthcare plan which means you can save money on the cost of routine vaccinations and flea and worm treatments as well as spreading payments for them throughout the year by direct debit.
As well as saving at least 21% on the costs of vaccines and parasite control, you'll also benefit from discounts on pet food, neutering, dental treatments and over-the-counter purchases at your practice. It also includes the cost of microchipping.
Ask us when you come into your appointment should you wish to join or to find out how much more you could save. You can sign up in practice on the day of your dog's vaccination to take advantage of an immediate 30% discount. You may of course decide to join at any time you wish, though discounts will only apply from the date that you start of your membership.
---
Insurance
We recommend that you consider pet insurance to cover unexpected sickness or injury which can be costly. (This is different to preventative healthcare which is not insurance).
If you've not already organised pet insurance, ask us at your appointment about setting up an initial 4 weeks of free cover once the vet has assessed your puppy to be fit and healthy and free from pre-existing conditions.
Should you wish, we can pass your details to a pet insurance provider to provide your dog with an immediate temporary four-week insurance policy.
The company can provide information about its policies which you are under no obligation to take up. Activating this free insurance can help cover the cost of unexpected veterinary treatment during this period and give you peace of mind whilst you decide which, if any, policy or insurance company is best for you.
---
Nutrition
We advise a good quality complete puppy food such as the Royal Canin range which is stocked in our practice. If your breeder has given you food, then it is best to continue with this initially, unless any concerns are raised by your vet. Many home-cooked diets that are followed by breeders may not give adequate nutrition to a growing animal and we'll advise on appropriate diets for the age and breed of your puppy.
If you would like to change to a different food then you should do so gradually over the course of about seven days, changing the proportions of new to old food each day. Sudden changes to diet can cause diarrhoea in puppies. Be careful with the treats that you are giving, some may not be suitable for puppies and again, can cause diarrhoea.
Do not give your puppy human food and ensure they always have access to clean and fresh drinking water.
---
Dental Health
Whilst your puppy is young it is the best time to get him/ her used to being handled. It is a good time to start ear cleaning and teeth cleaning so your puppy gets used to these preventative care procedures and they may help reduce the occurrence of ear infections and dental problems in the future.
Dental problems commonly affect dogs later in life, so starting teeth cleaning early on can certainly be beneficial.
---
Puppy Training
The first weeks and months of your puppy's life are vital for setting them up with the behaviour and routines that will help you and your family set them up for life as a happy and contented dog.
We recommend the PDSA website which has a number of training guides, from toilet training to walking on a lead and the Dogs Trust now offers virtual puppy training classes if you cannot get to a local class in person.
---
PetsApp
For video consultations and online chat from the comfort of your own home, why not download Petsapp to your Apple or Android device and connect with us?
You can then message us, send photos and videos, make payments via Android and Apple Pay or by debit or credit card, order pet food and parasite control, request repeat prescriptions and, if necessary, arrange a video consultation with our vet or nurse.