We're feeling like the cat's whiskers after being praised for offering the best possible care to our feline patients.
Our Mandeville Veterinary Hospital in Northolt has been awarded the prestigious Gold Standard Cat Friendly Clinic Award by International Cat Care, a charity dedicated to improving the care of felines.
The award recognises that the hospital provides the highest standard of care for cats and team members have been trained in the best way to look after cats to minimise stress and improve the experience for pets and their owners.
Our veterinary hospital is open 24 hours a day, 365 days a year and has been caring for pets in Northolt and the wider region for over 50 years.
The hospital benefited from a £160,000 refurbishment to help us continue to deliver the highest levels of care to our patients and ensure it meets the unique needs of cats including a new cat-only waiting area which is furnished with shelves for pet carriers, because cats feel safer when they are high up.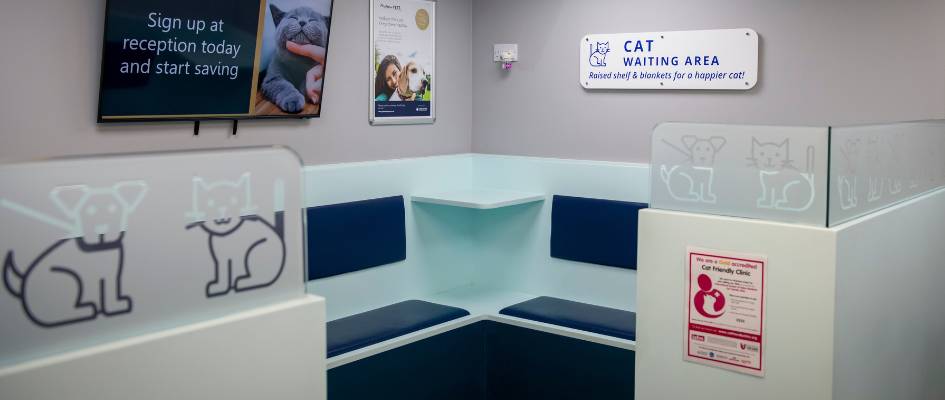 Longer appointments are allocated to cats, to give them time to adjust to their surroundings and the pets are encouraged to explore the specially designed consulting rooms and find a spot where they feel comfortable to be examined. Two of our newly refurbished consult rooms are now reserved just for cats and benefit from pheromone diffusers to create an even more calming environment.
The hospital also offers a dedicated cat-only ward for in-patients which is away from the noise of barking dogs and has cat kennels made from cat-friendly materials to minimise noise. Cat forts are provided so they have a place to hide if they prefer privacy, and those that need to stay overnight enjoy double-sized accommodation.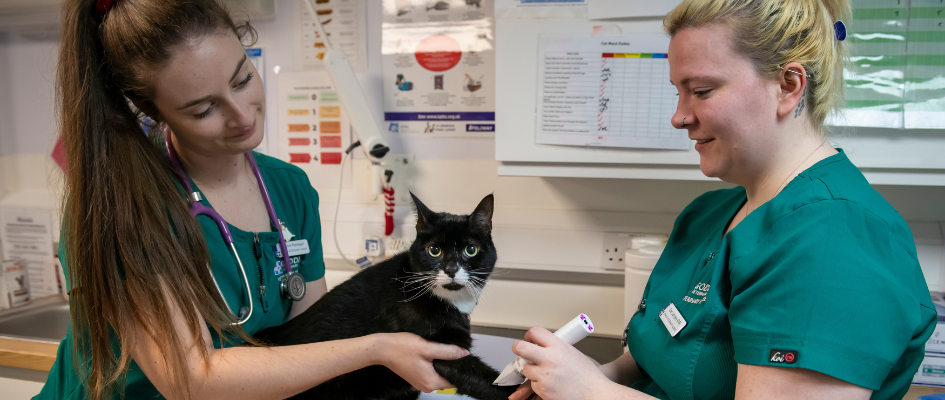 Veterinary nurses Zoe Langley and Leanne Flanagan are the hospital's cat-friendly advocates and have helped train colleagues to ensure that the highest standards of feline care are maintained throughout the hospital.
Zoe said: "We are very proud to have achieved the Gold Standard Cat Friendly Clinic award. We have made lots of improvements at the hospital to meet the needs of our feline patients and make a trip to the vet a more positive experience for them. By keeping them away from dogs and allowing them to come out of their cat carrier in their own time helps them stay relaxed, which makes it nicer for them and easier for the veterinary team to examine them.
"Our clients really appreciate our approach because their pet becomes less stressed about visiting the vets, so they feel much happier to bring them in for appointments."
Zoe, who owns a rescue cat called Floki, has achieved a qualification in feline specific anaesthesia, and is undertaking further studies into cat care.
She said: "I love working with cats because they have individual characters and it's really rewarding to spend time with them and find out the best approach for each one."
Sophie Ferriggi, Hospital Manager, added: "Our patients are always our number one priority and we are consistently finding ways to improve their experience with us. We embraced the opportunity to reconfigure the hospital to focus on creating a calm and less daunting experience for our feline patients."
As a 24-hour emergency hospital, Mandeville Veterinary Hospital not only offers routine appointments such as vaccinations and health checks for cats and dogs but also boats high-tech CT and ultrasound scanning, and we have a number of vets who specialise in orthopaedic, soft tissue and ophthalmology treatments. We regularly treats pets referred by other vets up to 40 miles away.